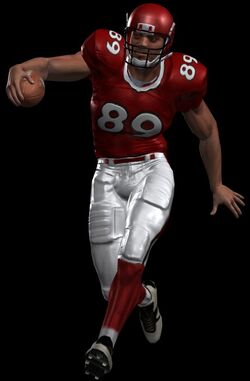 Second year tight end for the Vancouver Beavers, Carlos Coto, can drive block like a tackle and catch passes like a wide receiver. It's hard for linebackers to match up with him because of his speed and he can just power weaker safeties with his strength off the ball. His friendly and care free attitude makes him one of the more well liked players in the league. He is similar to Atlanta Falcons tight end Tony Gonzalez.
Ad blocker interference detected!
Wikia is a free-to-use site that makes money from advertising. We have a modified experience for viewers using ad blockers

Wikia is not accessible if you've made further modifications. Remove the custom ad blocker rule(s) and the page will load as expected.