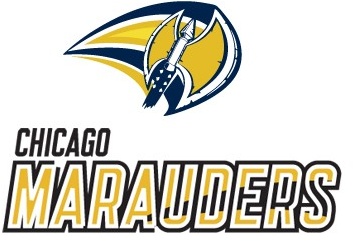 The Chicago Marauders are a Division II team in Blitz the League II. They are one of 15 recurring teams from the original Blitz the League game. Their team is known for their team captain Shane Spain who is the icon to the city of Chicago for breaking multiple passing records and winning MVP awards.
The Chicago Marauders are the oldest-surviving team in The League, and the only team that has played consistently in the same city since The League's inception. The team began as the Chicago Scouts in 1916, but World War I halts the League after a single season of play. The team returns in 1923 when Lt. Marshall Cooper, a former HB for the Scouts, and Tobias Walker, the engineer of the original League, reconstitute The League. In 1941 the scouts make history by winning the Division II and League Championships in a single season. They follow the next year by repeating as League Champions but their dynasty is interrupted by World War II. The Scouts are one of the few teams to stay put after Cooper consolidates The League in 1942. In 1945 HB Erik Jorgenson becomes the first player to rush for over a thousand yards in a season he also scores four rushing touchdowns in the League Championship. The city of Chicago builds the team a new stadium and the team itself rebrands itself the Chicago Marauders as a tribute to Jorgenson's Viking heritage. In 1955, Jorgenson collapses on the field and is later diagnosed with a rare heart condition. He dies shortly after but as his final wish Marauders stadium is turned into a temporary lake and 110,000 people watch as he is given a traditional Viking burial. The funeral is also televised nationally. In 1976 the Western and Eastern Leagues merge and the Marauders start play in Division I. In 1979 the Marauders defeat the New York Nightmare to win the League Championship and follow it up by repeating as champions in 1980 beating the Detroit Devils which sparked comparisons to the 1940s Chicago teams. In 1981 however the Marauders come in dead last and are bumped down to Division II. In 1983 the Marauders coach, Larry Simms is tragically killed by a mystery gunman in a parking lot outside the Marauders HQ. He is replaced by defensive minded coach, and former New York Shamrocks player, Chuck Koswolski. Koswolski remains coach until 1987 when he loses it during a press conference and starts yelling obscenities at the reporters he also calls the owner a spineless bastard and is fired two days later. The next two coaches only last a season each. In 1994 The League absorbs The Scrub League, creating a Division III, when its owner, Clive Hanson sells his interests to The League. In 1995, after a horrible season, John Parcells wanted to upgrade their terrible offense and defense. In the lottery the Marauders were awarded the 1st pick overall to acquire, Shane Spain. After having another horrible season the Marauders are the first team from The League to be bumped down to Division III. The team made it to the Division III Championship, however they come up short losing to the San Diego Cyclones. Still it is the best record the team has posted since 1980. In 2000 Chicago plays in the longest game in League history lasting 10 quarters. Chicago is able to come out on top winning on a field goal 17-14. The game however takes its toll and they finish near the bottom of the standings once again.
Despite the team's poor play, particularly at home, the Marauders have some of the most fanatical, devoted fans in The League. Their stadium is nicknamed "The Asylum" due to the nearly-insane levels of noise and antics of Marauders fans.
Heading into Blitz 1
Edit
The Marauders were a once-proud franchise who has been relegated to the bottom of Division 3 since the three-division system of play began, and has not had a winning season since capturing the League championship in 1980. Despite finishing poorly, the Marauders boast a legendary quarterback in Shane Spain, a two-time League MVP. The Marauders have a reputation for partying on the road, which the player can take advantage of by sending prostitutes to the team's hotel. This will leave the Marauders tired and worn out in the game, making sacks easier to record and causing their endurance to decrease.
Heading into Blitz 2
Edit
In order to even out the League due to expansion, the Marauders are automatically promoted to Division 2. Spain, who was considering retirement before the promotion decided to stay with the team, to the happiness of Marauders fans. Because Spain is still seen as a sound investment, the team's owners have refused to spend money on building the rest of the team, which has prevented the Marauders from seriously contending for the championship.
Team Info
Edit
Team Captain:
QB Shane Spain (1995-present)
Stadiums
Chicago Stadium (1916-1966)
The Asylum (1967-Present)
Chicago Marauders Roster (BTL I)
Quarterbacks

9

Shane Spain QB

8

James O'Donnell QB

12

Adam Overman QB




Running Backs

21

Julius Johnson RB

34

Darryl Witman RB

20

Darrius Rogers RB

40

Demarco Tubbs FB

42

Todd Bryce FB





Wide Receivers

81

Artell Williams WR

80

Nate Webb WR

82

Patrick Stilwell WR

88

Sid Graver WR

85

Kenny Davidson WR





Tight Ends

83

Conrad Ekman TE

89

Clarence Taylor TE

87

Brian Lee TE





Offensive Line

68

T. Hudson C

77

 ?. Ackland LG

71

 ?. Leech RG

Defensive Line

92

T. Svensson DE
93 J Mears DE
99 McGrath DT




Linebackers

52

Lars Sundberg ILB

51

Justin Bruner ILB

55

Brock Armstrong LOLB

59

Clarence Campbell ROLB





Defensive Backs

24

Russell Clayton CB

41

Hale Simmons CB

31

Adrian Harper SS

28

Ross Durden FS





Special Teams

11

Thad Skillings K

2

Paul Hecker P
Chicago Marauders Roster (BTL II)
Quarterbacks

9 Shane Spain QB

12

Adam Overman QB




Running Backs

29

LaDerrick Ri'chard HB

34

Darryl Witman HB

20

Dexter McPherson HB

40

Demarco Tubbs FB

42

Steven Cole FB





Wide Receivers

12

Dyron Orr WR

80

Nate Webb WR
81 Artell Williams WR

82

Drew Wolitarsky WR

88

Sid Graver WR
84 Thomas Gordan WR

85

Kenny Davidson WR





Tight Ends

83

Conrad Ekman TE

89

Clarence Taylor TE

87

TE





Offensive Line

68

T. Hudson C

66

 ?. Clifton C

77

D. Ackland G

71

 ?. Leech
61 Calvin Adams
69 Ike Taylor
6

3

 ?. Tew T
74 Javar Wiggins
64 Johnny Howard
62 L. J Fuller

Defensive Line

92

T. Svensson DE

91

 ?. Pfeiffer DE

90

 ?. Brown DE

98

 ?. Walters DT
93 Joe Mears DE
99 Tony McGrath DT
70 Reggie Luck DT
75 Andrew Wayne DT
72 Danny Blount DT




Linebackers

52

Lare Sundberg LB

51

Justin Bruner LB

55

Stephen Curry LB

44

 ?. Diamond LB

45

 ?. Williams LB
59 Clarence Campbell LB
57 Gerry Johnson LB
50 David Price LB
53 Donnie Shaw LB




Defensive Backs

24

Russell Clayton CB

25

Hale Simmons CB

29

Tarquez Bates CB
23 Aaron Foster CB

31

Adrian Harper SS
25 Sean Taylor SS

28

Ross Durden FS

36

 ?. Rodriguez FS





Special Teams

11

Thad Skillings K

2

Paul Hecker P
Ad blocker interference detected!
Wikia is a free-to-use site that makes money from advertising. We have a modified experience for viewers using ad blockers

Wikia is not accessible if you've made further modifications. Remove the custom ad blocker rule(s) and the page will load as expected.