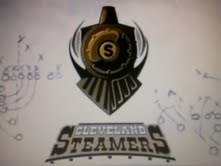 History :Edit
The original Cleveland Steamers were a short-lived team in The League during the 1940s but were one of the teams that were disbanded when The League consolidated from 12 teams to 6 in 1942 due to World War II. It would take over 60 years for Cleveland to get another franchise but they would finally succeed when they lured the bankrupt San Diego Cyclones to relocate there. Now this newest incarnation of the Steamers are back with a great secondary and a good receiving corps that could be molded into a contender.
In the second Blitz game the Steamers start out in Division III. Also former rookie WR Justin Jonas has joined the Steamers. During the move to Cleveland, their former captain, Ezekiel Freeman asked (demanded) for a trade to the Cincinnati Crusaders. So the Steamers appointed their new team captain, wide receiver, Henry Cho.
Head Coach: Andre Young (2015)
Team Captain: WR Henry Cho
Stadium: Shiverpool Superdome
Cleveland Steamers

Quarterbacks

1 Haven Mosley
3 EJ White

Running Backs

10Chris Douglas
18 Mulku Kalokoh
37 George Butler

Wide Receivers/Tight Ends

81 Henry Cho WR
84 Ryan Balentine
83'Ernest Dorsett
80 Sheldon Galloway
85 Josh Jarboe
87 Darnell Williams
86 Corey Alberty TE
88 Markel James
89 Dylan Williamson

Offensive Linemen

60 Roman Pritt
61 Damon Blatt
62 Williams Slade
63 Sini Tauauve'a
64 Tino Tuilata
65 Kenneth Woodget
66 Tyrus Maggitt
68 Justin Mayweather


Defensive Linemen

99 Gerald Blockmon
90 Silvio Diaz
91 Johnathon Elmo
92 Braxton Magalogo
93 Josh Moody
94 Jordan Morgan
97 Rony Nelson
95 Ino Vitale

Linebackers

48 FaQuawn Calhoun
55 Xavier Boyce
49 Jory Johnson
50 John Stevenson
52 Cuba Fishbourne
51 Lawrence Gooding
53 O'Shea Thompson

Defensive Backs

34 Rodney Anthony
23 Michael Bryant
31 Ronnie Stuckey
33 Earl Brooks
36 Jajuan Harley
21 Adam Lucas
39 Larry Miller, Jr.
30 Jerell Norton

Kickers

4 Zach Pulkinen
11 Mark Maronie
Ad blocker interference detected!
Wikia is a free-to-use site that makes money from advertising. We have a modified experience for viewers using ad blockers

Wikia is not accessible if you've made further modifications. Remove the custom ad blocker rule(s) and the page will load as expected.