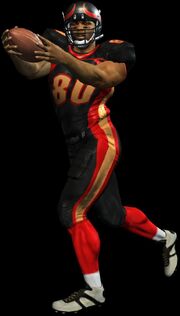 Cookie Wallace was the star player and team captain for the Detroit Devils. He is an outstanding kick returner who has the ability to score every time he touches the ball. He makes excuses when things don't go his way. While Cookie is coming out the prime of his career that still does not stop him from having a dominating game and giving opposing defenses a scare every time he steps on the field. Throughout his career, Cookie has been known to play with the minds of the opposing defender and using trash talk against his oppenents in order to gain an upper hand against them. Cookie was drafted in 2001 by the Dallas Aztecs but then got traded to the Detroit Devils in 2002. As of "Blitz: The League II", Wallace holds the record for the most receiving yards in a season (Division 1) with a remarkable 2215 yards which was broken by him in 2003. In 2003, he had 2874 yards and 23 TDs.
Wallace is modeled after Wide Receiver Terrell Owens.
Ad blocker interference detected!
Wikia is a free-to-use site that makes money from advertising. We have a modified experience for viewers using ad blockers

Wikia is not accessible if you've made further modifications. Remove the custom ad blocker rule(s) and the page will load as expected.