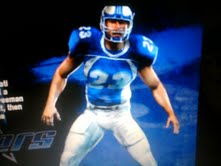 Ezekiel Freeman is the Corner Back captain of the
San Diego Cyclones
in the first Blitz game, and the
Cincinnati Crusaders
in the second game, but moved to Free Safety. He is a deeply christian man known to pray, and even deliver sermons, before each game.

Role in Blitz 1
Freeman was the captain of the San Diego Cyclones in the beginning he was modeled after Safety Legend Brian Dawkins but they thought they would alternate it Role in Blitz 2
After the events of the second Blitz game, Freeman demanded a trade to Cincinnati because "God told [him] to be a Crusader." As a result, Freeman ends up as the captain of the Crusaders. In this time, he became an ordained minister, and established a church in the inner city of Cincinnati, where he delivers a sermon every Sunday before playing. Named the 6th best defensive player in the league. He wears #23 to because of his older brother died in a car accident on the highway in 2001, a week before the draft.
Post Blitz 2
Freeman may be available to play for the player's team after the Division III season, depending on the positions of your franchise player.
Career Highlights and Awards
Former team captain of the San Diego Cyclones
Current team captain for the Cincinnati Crusaders
 Holds the all-time Division II record for most interceptions in one season, with 10 in 2007
2x Defensive Player (2006-2007)
Ad blocker interference detected!
Wikia is a free-to-use site that makes money from advertising. We have a modified experience for viewers using ad blockers

Wikia is not accessible if you've made further modifications. Remove the custom ad blocker rule(s) and the page will load as expected.