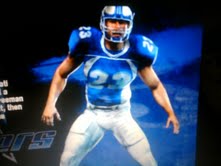 Ezekiel Freeman is a Cornerback Team Captain of the
San Diego Cyclones
in Blitz: The League, then moved to Free Safety with the
Cincinnati Crusaders
in Blitz: The League II. He is a devout Christian man known to pray, and even deliver sermons, before each game.

Role in Blitz 1
Freeman was the captain of the San Diego Cyclones, modeled after the former Philadelphia Eagles Defensive Back Brian Dawkins. He is one of the fastest cornerbacks in the entire game, so it's wise to not throw the ball to his direction unless your WR is wide open.
Role in Blitz 2
After the events of the second Blitz game, Freeman demanded a trade to Cincinnati because "God told [him] to be a Crusader." As a result, Freeman ends up as the captain of the Crusaders. In this time, he became an ordained minister, and established a church in the inner city of Cincinnati, where he delivers a sermon every Sunday before playing. Freeman was named the 6th best defensive player in the league during the timespan of Blitz: The League II. He wears #23 on the field as tribute to his older brother because he died in a car accident on the highway in 2001, a week before Ezekiel was on the 2001 League Draft.
Post Blitz 2
Freeman may be available to play for the player's team after the Division III season, depending on the positions of your franchise player. Freeman, as in the previous game, is a very fast safety, able to catch up to running backs that pass through the defense with ease. He is rated A- right out the gate, so it will benefit greatly in Division II and Division I games.
Career Highlights and Awards
Former team captain of the San Diego Cyclones
Current team captain for the Cincinnati Crusaders
 Holds the all-time Division II record for most interceptions in one season, with 10 in 2007
2x Defensive Player (2006-2007)