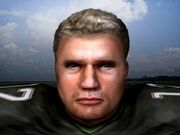 Grant Tanner is the quarterback and team captain for the Carolina Copperheads. He was the first overall pick in 2005, and is considered your rookie's competition for Rookie of the Year. His weakness comes in his tendency to panic once he gets hit.
In Blitz the League 2, he has aged a bit (probably in his mid to late twenties). His passes are some of the fastest and strongest in the league, strong enough to fracture the fingers of two of his receivers, but he has a tendency to throw in heavy traffic, resullting in many interceptions. He was probably not one of the players to sign with the Riot. He could be modeled after Chicago Bears Quarterback Jay Cutler.
Ad blocker interference detected!
Wikia is a free-to-use site that makes money from advertising. We have a modified experience for viewers using ad blockers

Wikia is not accessible if you've made further modifications. Remove the custom ad blocker rule(s) and the page will load as expected.