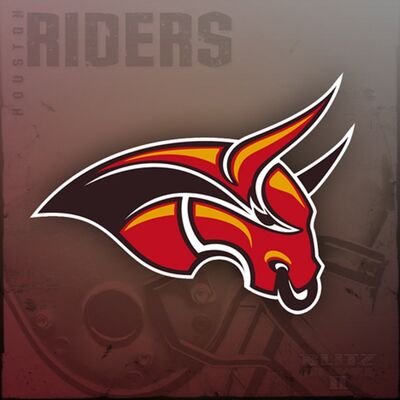 History
The Houston Riders are an expansion team that joined The League in between Blitz I and II, apparently during the 2006 season. The Riders have replaced the Dallas Aztecs as The League's only Texas franchise, when the Aztecs moved to Mexico City, in a controversial move by Commissioner Clive Hanson, who Dallas fans feel betrayed the city. The Riders have been near the bottom of Division 3 in their two seasons in the league, mostly because they drafted poorly. This year is different however; they've drafted a solid rookie class and Daunell Sullivan appears to be the perfect asset to solidify a powerful running game. These perennial losers have a chance to make some noise this year. In 2013, the Philadelphia Brawlers traded Mike Mexico and Terrence Noel to the Riders for cash.
Team Captain: RB Daunell Sullivan
Head Coach: Jim Campen (2011)
Houston Riders Roster (BTL II)
Quarterbacks

8

Mike Mexico QB
3 Antonio Brown


Running Backs

28

Daunell Sullivan RB

82

Johnny Henricks FB


Wide Receivers

11

Channing Taylor WR
87 Terrence Noel WR

10

Kyle Dennis WR
80 Dennis Jones
81 James Walker
83 Jerry Ricecake


Tight Ends

89

Bryan Zabal TE

49

Thom Norton TE
86 TE


Offensive Line

64

Scott Green G
60 Arthur Perez
63 Jack Evans
61 William Rogers
62 Tyler Wells T
66 Christopher Simmons

65

Ted Koller
64 Winston Dawson

Defensive Line

91

Evan Craft DE

98

Dwight Cason DE

75

Dante Parker Jr DT
79 Gerald Gonzalez DE
99 Donald Phillips DT
93 Patrick Davis DT
95 DaNoel Thompson DT


Linebackers

53

Joe Rakowski LB

50

Leonard Wolf LB

97

Wayne Clark LB

54

Sean Jennings LB
50 Timothy Thomas
52 Eric Green
56 Seam Sanchez


Defensive Backs

25

Courtney Day CB

31

Blake Emerson CB
29 Adam Hall CB
39 Abe Applegate CB

26

Rex Chipman SS

24

Vince Thomas FS
33 Jamarcus Boley SS
36 Craig Cox FS




Special Teams

4

Steve Leanos K

2

Larry Haller P
Ad blocker interference detected!
Wikia is a free-to-use site that makes money from advertising. We have a modified experience for viewers using ad blockers

Wikia is not accessible if you've made further modifications. Remove the custom ad blocker rule(s) and the page will load as expected.