Role in Blitz 1
Edit
Julius Williams was the quarterback for the
Dallas Aztecs
. Drafted 1st overall in 2001, He is widely regarded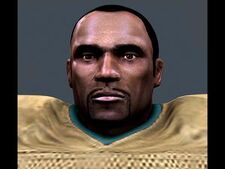 as the best quarterback in the league. He has several endorsement deals with large companies like. He led the Aztecs to the League Championship in both 2003 and 2004 leading up to Blitz 1. He is the reigning MVP and was the first quarterback in league history to rush for more than 1000 yards in a single season.
Williams is known as a pretty likeable guy. In his video introduction is it said that "you want to hate him, but you can't." Before playing the Aztecs, Williams sends a message to the Rookie for the Player-Created Team. In this message he is not overly aggressive, but informs the Rookie that he intends to win. Julius is the brother of Washington Redhawks captain Jacob Williams. The two brothers were rumored to have bought a citrus orchard in Florida, which may have contributed to Julius' move. Julius is also free of the legal problems that have plagued Jacob, who is in federal prison at the start of the second Blitz game.
Sometime after BTL 1, Williams signs a lucrative deal with recently relocated Miami Hammerheads in the process becoming the team captain after the apparent retirement of FS Chris James, the team's former captain. In 2011 Williams was rated the Highest Paid Athlete in Professional Sports and it happened when his jersey sales skyrocketed. He would later retire from the sport to pursue voice acting.
Williams is modeled after QB Donovan McNabb
2x Championship MVP
2001 Heisman Player of the Year
4x League MVP
2x League Champion
Rated Top 5 in QB rating in 2012