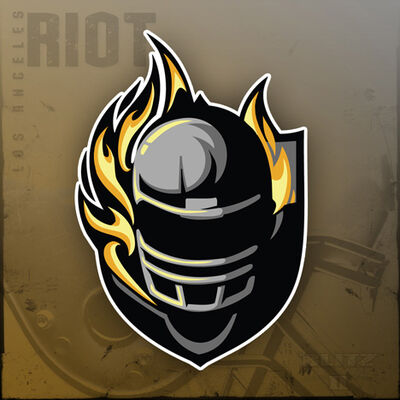 History
The Los Angeles Riot was formed as an expansion team some time in between Blitz: The League 1 and Blitz: The League 2. Their owner immediately set about turning the Riot into a championship team, spending money to sign stars from around The League. One such player is Bruno Battaglia, presumably signed away from the player-created team. They are also the Commissioner's pet project as he wants this team to be the new face of the league going so far as to start the team in Division II.
The Riot are an excellent team on paper, but their main weakness is a lack of team spirit and unity. The owner believes that signing groups of individual stars will bring about a championship, but ended up bringing in a bunch of ball hogs only looking out for themselves. The commissioner also tries to help this team out as much as possible even giving the team the #1 Draft pick, which most people assumed would be "Franchise", but he stunned the commissioner and everyone else by declaring he would only play for his hometown team.
The Riot represents the player's chief rivals in Blitz: The League 2. They are the darling of League Commissioner Clive Hanson, who is determined to see a team succeed in the nation's largest media market. As a result, he starts the team in Division II, though they fail to advance in the first season of play. The player plays the Riot during the regular season in Division II, however, the Riot once again fails to advance to the championship. The boating tragedy that killed several Minnesota Reapers players, however, gives Hanson the opportunity to advance the Riot into Division I, taking the Reapers' place. Hanson also voids the contracts of several League superstars including Clayton Wescott, Tyrell Price, Kimo Talofa, Darryl Kinsman, Kelvin Diggs, and Justin Jonas, who all sign with the Riot. The new additions make the Riot the most dominant team in The League, and easily propel them to the League Championship. However, the player's team still manages to come away with the championship in the end.

Team Stadium: LA Stadium
Team Captain: LB Bruno Battaglia
Los Angeles Riot Roster (BTL
Quarterbacks

8

Clay Huber QB
1 Chris Laviano QB







Running Backs

26

Kevin Word RB
25 RB Charlie Davidson
24 RB Clevon Baris
29 Timmy Soto FB

45

Freddy Duncan FB







Wide Receivers

17

Dwayne Rahman WR

83

Zachary Cambra WR
86 Richard Jackson WR
85 Chester Prigioni  WR
84 Eugene Daniels







Tight Ends

87

Tex Osborn TE

88

Kenny Garcia TE
81 Ivan Bell TE







Offensive Line

75

Danny Heard C
78 Duane Ballard
69 Aaron Hall G
67 Bil Mathis G

65

Brett Gray G

70

Ricky Crass G
63 Brad Herrera T
71. Damon McCarthy 
66. Emilio Ortega 

Defensive Line

90

Andre Carter DE

93

Ronnie Vaughan DE

96

Trip Sharber DE
99 Trevor Carpenter DE
73 Gene Guerrero DT
77 Hector Owens DT
97 Tyrell Price DT
92 Erick Dean DT
50 Patrick Francis DT







Linebackers

55

Bruno Battaglia LB
93 Brian Lewis LB

59

Roberto Escobedo LB

58

Vance Stephens LB

53

Bobby Lee LB
50 Randolph Mullins LB
51 Lynn Edwards LB







Defensive Backs

20

Eric Holmes CB

21

Eddie Garcia CB
13 Danny Roberts CB
15 Lorenzo Patterson CB

43

Manny Borson SS

35

Derrick Nelson FS
33 Chris Carter FS
37 Roy Burton







Special Teams

4

Scott Hopwood K

7

Dustin Brooks P