Looking to expand beyond the USA, The League (backed by the Mexican government) was able to convince the owners of the Dallas Aztecs to relocate their team to Mexico City. Already having a large hispanic fan base the owners decided the move could only help the franchise although it came with a steep learning curve. The Aztecs were able to stay in Division 1 however thanks to their devastating running game.
Team Captain: TE Felix Fortain
Stadium
New Aztec Dome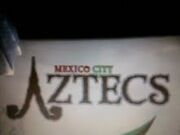 Mexico City Aztecs Roster (BTL II)
Quarterbacks

Running Backs

22

George Demos RB

40

Terrence Fayne FB


Wide Receivers

87

William Hum WR

88

Cleveland Short WR

82

Florenzo Cain WR


Tight Ends

81

Felix Fortain TE

89

Tony Shafer TE


Offensive Line

64

Corey Panos G

77

Rory Sobczak G

Defensive Line

75

Claude Reyna DE

98

Michael Brooks DE

97

Grant Tate DT

Linebackers

55

Cie Fiala LB

50

Bryan Hadlock LB

52

Zach Traber LB

51

Lenny Watson LB


Defensive Backs

21

Felicio Valdez CB

48

Mike Alonso CB

30

Stephen Abrams SS

31

Vince Shade FS


Special Teams

9

Ryne Clark K

3

Chance Eckler P
Ad blocker interference detected!
Wikia is a free-to-use site that makes money from advertising. We have a modified experience for viewers using ad blockers

Wikia is not accessible if you've made further modifications. Remove the custom ad blocker rule(s) and the page will load as expected.