Packrat James plays free safety/cornerback as team captain of the
New England Regulars
. He is an analogue to NFL cornerback Adam "Pacman" Jones. James took over the defense from retired captain
Vonnie Treonday
and kept up the level of excellence on the field. Off the field, he's been arrested 12 times. Between multiple breaking-and-entering charges, his addiction to strip clubs, and his off-season antics as a professional wrestler, Packrat is as much the team cancer as he is its savior.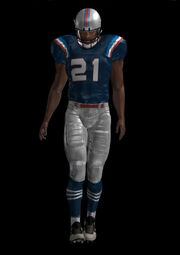 Ad blocker interference detected!
Wikia is a free-to-use site that makes money from advertising. We have a modified experience for viewers using ad blockers

Wikia is not accessible if you've made further modifications. Remove the custom ad blocker rule(s) and the page will load as expected.