Vonnie Treonday was a trash talker who played for the New England Regulars and had a knack for getting into opponents' heads. He led the League in interceptions in 2004 and 2005 as he led New England to a 2008 League Championship victory in his final season.
Despite his trash-talking personality on the field, Treonday is regarded as a decent guy with good morals. Treonday retired shortly before the beginning of Blitz: The League II. Therefore, New England replaced their all-star veteran with troubled player Packrat James as team captain.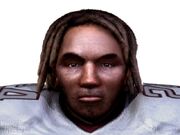 Career History
Career Highlights and Awards
Led the League in interceptions (2004)
Holds the all-time Division I record for most interceptions in one season, with 15 in 2005
Member of the East All-Stars team (Blitz: The League) (1997-2005)
Member of the All-American team (Blitz: The League)
League champion (2008)
Ad blocker interference detected!
Wikia is a free-to-use site that makes money from advertising. We have a modified experience for viewers using ad blockers

Wikia is not accessible if you've made further modifications. Remove the custom ad blocker rule(s) and the page will load as expected.